The Philosopher's Throne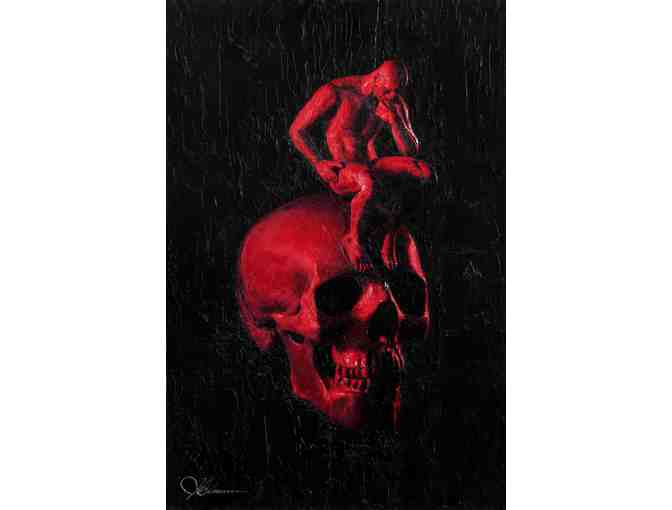 Item Number: 111
Time Left: CLOSED
Online Close: Nov 16, 2016 11:59 PM EST
Bid History: 16 bids - Item Sold!
Description
Artist: John Aslarona
Piece Title: The Philosopher's Throne
Description: The Thinker is probably Rodin's most popular work and one of my favorites from Art History. I still remember from years ago reading about The Gates of Hell and Rodin's vision of hell being all that causes us suffering and pain as humans through our lifetime. And The Thinker at the center of it all represents all of us going through all inevitable struggles in our lives. This is what's drawn me to the piece and this inspired illustration of The Philosopher's Throne.
As we go through life, we eventually find ourselves in brooding times. We will encounter unfortunate things, feeling and passions we can't seem to escape, and those encounters are events we don't have power over. As I've illustrated a man deep in thought over a skull, the skull represents all of these difficulties that await us, 'inescapable as death. And as men, when we are tried through these difficulties, we find ourselves in contemplation. We try to make sense of it all. We think of ways to escape our demons, 'the hell within us… and from thinking we discover feelings such as hope and love to overcome these troubles and find answers to our questions.
Inspiration: The Thinker, Rodin, 1902
Size: 24"x36"
Medium: Oil on wood
Special Instructions
In addition to the piece, the winning bidder will receive an auction paddle signed by The Art of More cast.
Donated by
Crackle