One Ticket- Literary Tour of Ptown & Lunch w/ East End Books Jeff Peters + Michael Mailer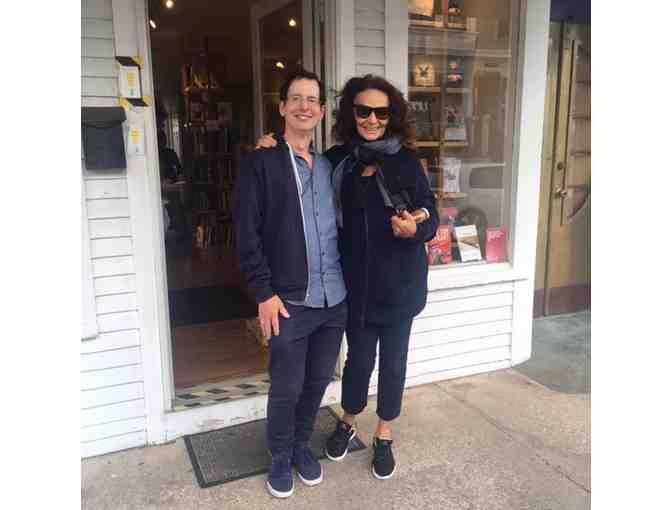 Item Number: 260
Time Left: CLOSED
Value: Priceless
Online Close: Feb 7, 2021 11:59 PM EST
Bid History: 2 bids - Item Sold!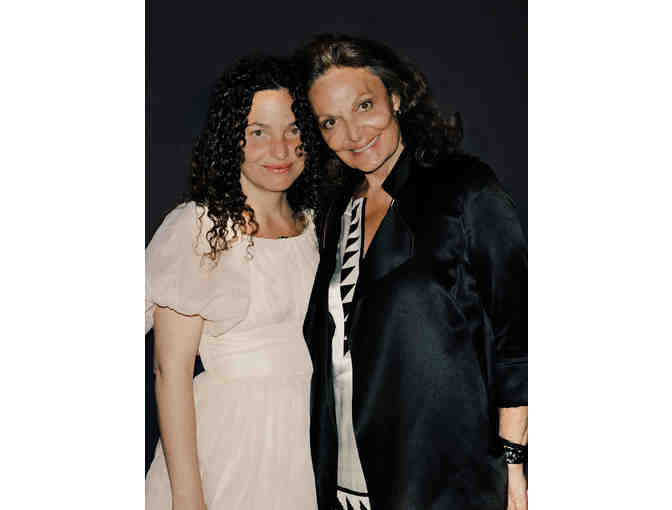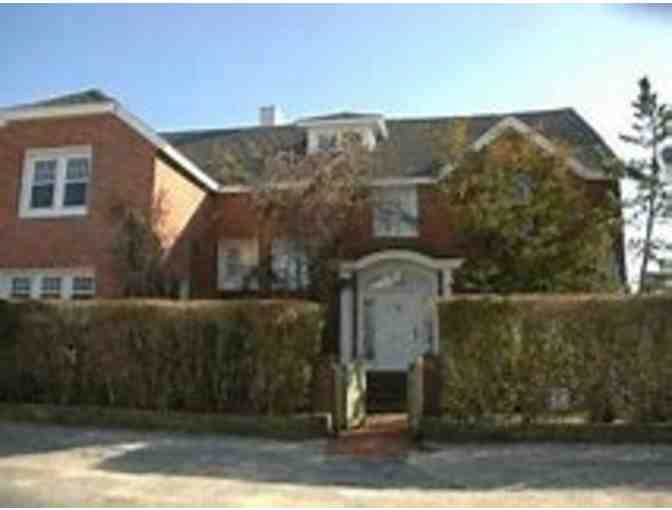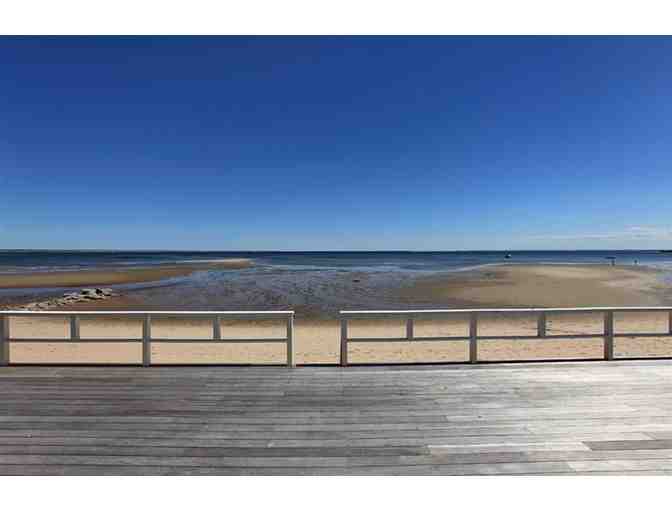 Description
A private tour for maximum 12 people with East End Books Ptown owner (www.eastendbooksptown.com) and literary expert Jeff Peters. Jeff is a true bibliophile who has an extensive knowledge of literature in Provincetown and beyond. Jeff is the former Publisher of Anhinga Press and a former Arts & Literature Editor for various literary Journals. Jeff is also an award winning Documentary Film Producer. This 90 minute private tour will take you to see the places where the writing happened in Provincetown. We'll also visit Norman Mailer's grave in Provincetown.
Along the way you'll also meet some literary stars (TDB based on availability). This special event is currently scheduled to be held during the June Film Festival.
This event will include a tour of the Mary Heaton Vorse house!
Dates will be confirmed with the winning bidders.
The tour will include a private tour of the Norman Mailer House followed by a celebrity Chef lunch on the waterfront deck of the house. We'll be joined by Norman Mailer's son, Michael Mailer at the Mailer House for a personal tour! See bio below.
Depending upon the tour date, Jeff's friend (& owner of the Norman Mailer House) Filmmaker, artist/author Princess Tatiana Von Furstenberg, may be present for the tour and if so, will give a preview of her forthcoming book!
*Each participant will receive a signed copy of "Land's End" by award-winning author Michael Cunningham.
*Twelve individual tickets will be available with a minimum bid of $250 per ticket. Each Lot is for 1 ticket.
*COVID-19 Note: If you are planning to purchase a travel package, tour or in person experience, please note that the dates for the trips and experiences may be dependent on regulations for COVID-19 to ensure public health safety and compliance.
Norman Mailer Provincetown House
Built in 1930, the rare-for-Provincetown brick home was first owned by Dr. Percival J. Eaton, who retired to Provincetown after a career as a pediatrician and chief of staff at St Margaret's Memorial Hospital in Pittsburgh, according to "Building Provincetown" by David Dunlap.

It served as the Collins Guest House in the 1940s and '50s.

Artist Lily Harmon bought it in 1956. Harmon was newly divorced from Joseph H. Hirshhorn, the multimillionaire art collector and, later, founding patron and namesake of the Hirshhorn Museum and Sculpture Gallery in Washington, D.C., according to the book.

Author and art critic B.H. Friedman bought it from her. And Mailer first moved in in 1971, when he rented it from Friedman, the book says.

Scenes from the movie "Tough Guys Don't Dance," based on Mailer's book of the same name, were shot inside the house.
Norman Mailer, who died in 2007, had lived in the house full time for years after buying it in 1986. The house is located at 627 Commercial St. in the town's East End overlooking Provincetown Harbor and Long Point.
The Pulitzer Prize- and National Book Award-winning author shared the home with his large family, which included nine children from six marriages.

After Norris Church Mailer, his wife of 27 years, died in 2010, the four-bedroom house served as an educational nonprofit center for writers. In 2013, the family put the house up for sale. Tatiana Von Fursteberg bought the house.
Von Furstenberg daughter of fashion designer Diane von Furstenberg and the late European aristocrat Prince Egon von Furstenberg, said she could feel that "many lives have been lived there."

"Families had been raised there, books had been written there," she said of the famed author's home, built in 1930 at 627 Commercial St. in the town's East End overlooking Provincetown Harbor and Long Point.
Tatiana Desirée von Fürstenberg (Tatiana Desirée Prinzessin zu Fürstenberg) is an American art curator, singer-songwriter, actress, philanthropist, and filmmaker.
Von Fürstenberg was born on February 16, 1971, in New York City to fashion designers Prince Egon von Fürstenberg and Diane von Fürstenberg. On her mother's side she is of Jewish Moldovan, and Jewish Greek descent. On her father's side she is of German and Italian descent, and a member of the House of Fürstenberg. Her paternal grandparents were Prince Tassilo zu Fürstenberg and Clara Agnelli, the elder sister of Fiat's chairman, Gianni Agnelli. She is the younger sister of Prince Alexander von Fürstenberg.
Her parents divorced in 1972, and she was raised mostly by her maternal and paternal grandmothers, Holocaust survivor Liliane Nahmias and Agnelli. When she was six her mother released a perfume, Tatiana, named after her. Her father remarried Lynn Marshall in 1983. Educated at Cranborne Chase School, she went on to attend Brown University and studied modern culture and media, comparative literature, and education. After graduating in 1991 she did graduate work in applied psychology at New York University. Her mother remarried Barry Diller in 2001. Tatiana is the aunt to Talita von Fürstenberg, Tassilo von Fürstenberg, and Leon von Fürstenberg.
Norman Kingsley Mailer (January 31, 1923 – November 10, 2007) was an American novelist, journalist, essayist, playwright, activist, film-maker and actor. In a career spanning over six decades, Mailer had 11 best-selling books, at least one in each of the seven decades after World War II—more than any other post-war American writer.
His novel The Naked and the Dead was published in 1948 and brought him early and wide renown. His 1968 nonfiction novel Armies of the Night won the Pulitzer Prize for non-fiction as well as the National Book Award. His best-known work is widely considered to be The Executioner's Song, the 1979 winner of the Pulitzer Prize for fiction.
Mailer is considered an innovator of "creative non-fiction" or "New Journalism", along with Truman Capote, Joan Didion, Hunter S. Thompson, and Tom Wolfe, a genre which uses the style and devices of literary fiction in fact-based journalism. He was a cultural commentator and critic, expressing his views through his novels, journalism, frequent media appearances, and essays.
Michael Mailer
Michael Mailer has been working extensively in the independent film business since graduating from Harvard University in 1987. He co-wrote and produced his first feature film, A Fool And His Money, starring Sandra Bullock and George Plimpton, in 1988. Since then, Mailer has produced over 20 features.
His films include the critically acclaimed Two Girls and a Guy, starring Robert Downey, Jr, Heather Graham, and Natasha Gregson Wagner (20th Century Fox, 1998); Black and White, starring Ben Stiller, Brooke Shields, Elijah Wood, and Mike Tyson (Sony Pictures, 1999); and Empire, starring John Leguizamo, Denise Richards, and Peter Sarsgaard (Universal Studios, 2002). Mailer also found success in films like Lost Junction with Neve Campbell (MGM, 2000); The Last Producer with Bert Reynolds, Lauren Holly, and Benjamin Bratt (Artisan, 2002); and Harvard Man, starring Sarah Michelle Gellar, Joey Lauren Adams, and Adrien Grenier (Blockbuster, 2002). In 2003, Mailer produced Devour, starring Hollywood up-and-comers Jensen Ackles, Shannon Sossamon, and Dominique Swain (Columbia Tri-Star, 2004); and Loverboy with all-star cast Kyra Sedgwick, Kevin Bacon, Marisa Tomei, Oliver Platt, Sandra Bullock, Campbell Scott, and Matt Dillon (Millennium, 2004). The film made its debut at Sundance 2005 and was later released theatrically by Think Films.
Michael Mailer Films was established in 2004 to focus on both independent, character-driven films and larger, concept-oriented studio pictures. Since its formation, MMF has produced six pictures. Among them, the romantic comedies Kettle of Fish, starring Matthew Modine and Gina Gershon; and The Golden Boys, starring David Carradine, Rip Torn, and Bruce Dern. Additionally, Mailer produced two films released through Sony: The mixed martial arts-urban western Blood and Bone, and a remake of Hitchcock's The Lodger. Mailer's latest film, The Ledge, a suspenseful drama starring Liv Tyler, Patrick Wilson, Terrence Howard, and Charlie Hunnam, debuted in Main Dramatic competition at Sundance 2011 and was released by IFC.
Mailer productions in recent years include: Seduced and Abandoned, starring Alec Baldwin, which screened out of competition at the 2013 Festival de Cannes; A Little Game, starring Olympia Dukakis, F. Murray Abraham, and Janeane Garofalo; Friends and Romans, starring Michael Rispoli, Annabella Sciorra, and Tony Sirico; Lost in Florence with Brett Dalton and Stana Katic; and Showing Roots, starring Maggie Grace, Uzo Aduba, Elizabeth McGovern, and Adam Brody.
Mailer's feature released in 2017 is also his directorial debut: Blind, starring Alec Baldwin, Demi Moore, and Dylan McDermott. The Mailer production starring Sienna Miller, The Private Life of a Modern Woman, had its world premiere at the 74th Venice International Film Festival. Mailer recently directed the soon-to-be-released feature Swing, starring Michael Shannon, Alexander Ludwig, and Charles Melton.