Autographed Ted Williams-Babe Ruth framed photo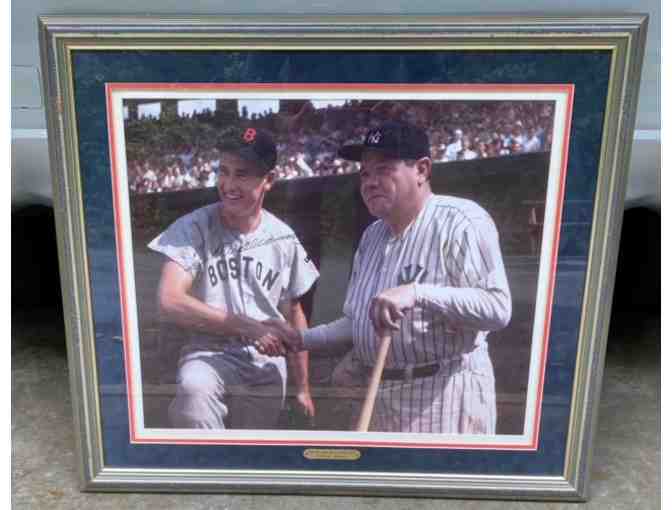 Item Number: 221
Time Left: CLOSED
Value: Priceless
Online Close: Oct 17, 2021 6:00 PM AST
Bid History: 17 bids - Item Sold!
Description
A perfect gift for the Red Sox fanatic, this photo by George Lyons, with a Ted Williams signature, was taken at Fenway Park on July 13, 1943. Professionally framed, 24" by 24".
See Library of Congress info on a similar photo.
This July 13, 1943 Boston Globe article describes the "Service All-Stars Game" at which the photo was taken. Some sources describe the event as a publicity event for war bonds, but this article describes it as a fundraiser for low-income kids (Mayor Tobin Field Day).
The frame notes that the photo is from 1939, and this photo is typically attributed to two different dates, 1939 and 1943. However, if you look closely at Williams's left arm, you will see the "Health" patch on the uniform sleeve, which MLB players all wore, starting in 1942, as part of a "shape up America" campaign, "Hale, Hearty and Healthy", for the war effort.
For more info on the Health patch, see this article: "A Look at some old hale America patches."
Special Instructions
The donor purchased this framed photo in an antique shop in Santa Monica, CA, in 2014. The photo does not come with a Certificate of Authentication. However, several promising clues suggest that the signature is authentic. Foremost is that the original owner spent a good deal of money on having the photo professionally framed, including three mats, glass and backing, suggesting that the original owner highly valued this signature and photo.
If the signature is authentic--which a trained professional could determine and certify for a fee -- the photo would fetch a premium in the baseball collectibles market. However, "let the buyer beware." Be in touch with Auction Chair Dianne Fallon at diannefallon2@gmail.com if you would like to inspect this item -- but not at the last minute, please!