Dog Cologne- PUCCI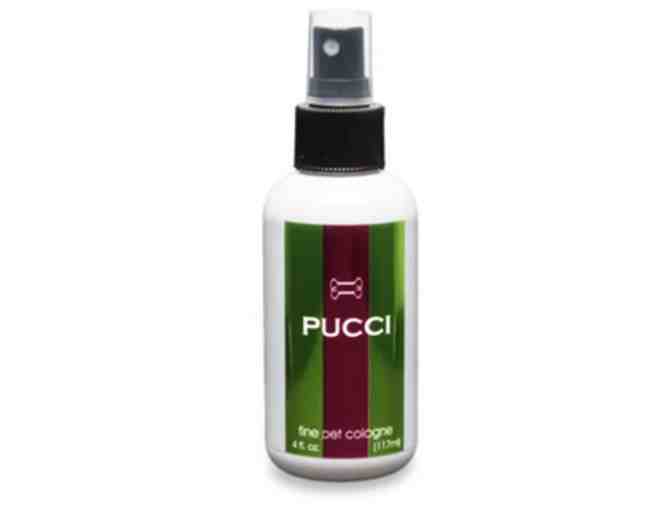 Item Number: 935
Time Left: CLOSED
Value: $12
Online Close: Nov 7, 2021 9:00 PM PST
Bid History: 1 bid - Item Sold!
Description
Pucci- Fashioned after Gucci Nobile by Gucci. Boy dogs deserve to wear something more masculine than the scent of "baby powder." Pucci fits the bill. Classic and rich, this cologne contains some expensive ingredients. You'll witness the action first hand when your stud wears this clever classic. Keep your best friend smelling like a million bones. (4 fl.oz.)
Our Story
We focus on making quality products formulated specifically for pets using quality ingredients. If you are ever dissatisfied with your purchase, please do not hesitate to get in touch. Let us know how we can make your gotdog.com experience a better one. Your satisfaction is our first priority!
History
The Beginning…Nature Labs entered the personal care products industry in the Fall of 1994. Our first homerun was called "Cucumber Slices"; a human health and beauty aid consisting of cotton pads immersed in cucumber extract and other botanical ingredients. Stiff competition, copy-catting and limited sales eventually drove Nature Labs to the dogs.
The Pet Set…Pet colognes have been popular for quite some time. Let's face it: a dog smell like a dog. So, Nature Labs created a parody line of pet colognes to help keep pet odors at bay. The result: "colognes for pets" teeming with panache, flair and intrigue. Top smellers include: cK-9, Timmy Holedigger, Beautifur, Bono Sports, Woofy and White Dalmatians.
The Good, the Bad, and the Ugly…Since its launch in February 1997, Colognes for Pets has created some great buzz and has even aroused the likes of Tommy Hilfiger's trademark attorneys; it was rough going for a while, having to deal with all of the legalities and shelling-out big bucks to defend our little Timmy Holedigger. In August 2002, the Federal Court of New York ruled in favor of Timmy Holedigger, ordering Mr. Hilfiger to "chill". MAXIM magazine (January 2000) and VIBE magazine (December 1999) have even picked up the scent and featured the Colognes for Pets line. The products have also been featured on numerous news channels and cable-based pet shows.
Special Instructions
This item can be picked up at La Ballona Elementary, or mailed to the winning bidder for additional shipping charges.