Pink Pretty Flowers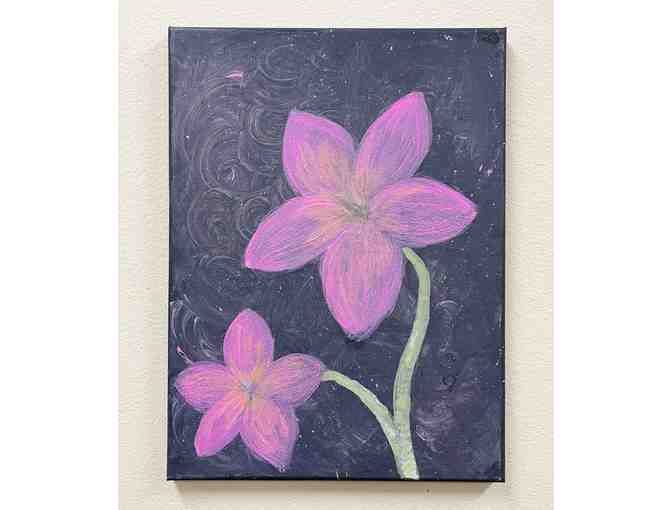 Item Number: 122
Time Left: CLOSED
Online Close: May 18, 2022 5:00 PM CDT
Bid History: 0 bids
Description
Material: Canvas
Dimensions: 12" x 16"
Artist: Carolyn
We invited every artist to share their hobbies, what inspired their artwork, and how CCLS has impacted their lives.
Carolyn shared: My hobbies are basketball, swimming, horseback riding, coloring, painting, puzzles, watching movies, planting flowers, making food and helping around the house.
This artwork was inspired by flowers.
CCLS has improved my life because I get to do art projects, hang out with friends, and help others.
Special Instructions
Payments for winning bids are due at the conclusion of the auction via online payment.
Shipping and pickup are available for all items. The CCLS Auction Team will work with each buyer to determine the best method of item delivery.
Shipping
Art will be mailed via USPS Priority Mail shipping when available. Buyers will be charged for the shipping costs and charges will appear as a second charge on your card.
Pick Up
You may choose to pick up your items at one of the CCLS offices. In the event that you choose to pick up your item, no additional fees will be charged to the buyer. Items will be available at the designated location after June 3, 2022. An email with pick-up details will be sent to you on or before this date.
Pick up locations


Corporate Office, 314 E Main Street, Watertown, WI 53094


Eastern Office, 12970 W. Bluemound Suite 301, Elm Grove, WI 53122


North Central Regional Office, 2821 8th Street So, Wisconsin Rapids, WI 54494


Northwestern Region Office, 221 Fillmore St, Black River Falls, WI 54615


Western Region Office, 704 Sand Lake Road, Suite 201, Onalaska, WI 54650


South Central Region Office, 2985 Triverton Pike, Fitchburg, WI 53711


Southern Office, 101 S Main St Ste 350, Janesville, WI 53546


Marshfield Office and Day Services, 2308 South Hume Ave, Marshfield, WI 54449