Bloody Crossroads 2020: Art, Entertainment, and Re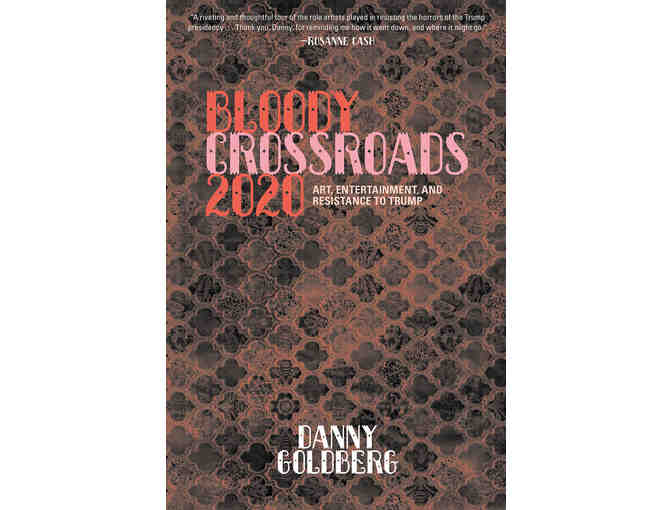 Item Number: 179
Time Left: CLOSED
Value: $28
Online Close: Nov 30, 2022 10:00 PM EST
Purchase History: 1 item sold
Description
Bloody Crossroads 2020: Art, Entertainment, and Resistance to Trump by Danny Goldberg (hardcover book; political nonfiction)
Description
Bloody Crossroads 2020 takes a deep dive into the role that mass-appeal movies, television, videos, and music played in America's political culture in the year of Donald Trump's failed reelection campaign. The book also explores the impact of entertainment celebrities in communications, fundraising, and campaigning to support the election of Joe Biden.
Although there existed a decades-old tradition of "liberal Hollywood," Trump's ascension to the presidency in 2016 triggered an unprecedented level of engagement by artists and performers. Within days of the 2016 election, a critical mass of entertainers, from teenagers to the last survivors of the World War II generation—blockbuster movie stars, art-film auteurs, Broadway dramatists, comedians, and musicians from the worlds of classical, country, pop, rock, R&B, and hip-hop—all seemed to have heard the tom-tom beat of resistance at the same moment and amplified a moral alternative to Trumpism. That level of engagement intensified with rare passion and purpose in the period of 2020 chronicled in Bloody Crossroads 2020—the Democratic primaries, the COVID-19 pandemic, the aftermath of the murder of George Floyd, the conviction of sexual predator Harvey Weinstein, and the 2020 general election campaign—culminating in Trump's failed insurrection.
Exhaustively researched, Bloody Crossroads 2020 draws from brand-new interviews with Bruce Springsteen, John Legend, Rosanne Cash, David Simon, Adam McKay, Chuck D, David Corn, Mandy Patinkin, and many more. It also explores the important political activities of entertainers like Stephen Colbert, Trevor Noah, Taylor Swift, Cardi B, Alyssa Milano, Mark Ruffalo, Jane Fonda, Robert De Niro, Bette Midler, Steven Spielberg, Spike Lee, Ava DuVernay, Dave Chappelle, Chris Rock, and Wanda Sykes.
Bloody Crossroads 2020 expertly dissects and celebrates how the empowering actions of artists and entertainers helped a record turnout of everyday citizens realize a triumphant 2020 election.
Watch interviews with Danny Goldberg at The Hill TV's Rising and The Young Turks' The Conversation.
Read interviews with Danny Goldberg at Slow City Magazine, Capital & Main, and the Harlton Empire.
Read an excerpt from Bloody Crossroads 2020 at The Wrap.
Listen to interviews with Danny Goldberg at Canada Now, The New Republic's Tomaskycast, FYI Music News, The Evan Solomon Show, Day 6, House of Crouse, The Michael Smerconish Show, and Rudy Blair.
Special Instructions
Includes signed bookplate, signed by the author Danny Goldberg.

DANNY GOLDBERG is the author of the acclaimed books How the Left Lost Teen Spirit, Bumping into Geniuses, In Search of the Lost Chord: 1967 and the Hippie Idea (Akashic, 2017) and Serving the Servant: Remembering Kurt Cobain. He began his career in 1969 with Billboard, for whom he reviewed the Woodstock Festival, and later wrote for Rolling Stone and Crawdaddy. He worked as a personal manager for Nirvana, Bonnie Raitt, the Allman Brothers Band, and Sonic Youth, and was president of several major record companies. He currently runs Gold Village Entertainment, a management company whose clients include Steve Earle, Martha Wainwright, and the Waterboys. Goldberg is former chair of the ACLU of Southern California, serves on the board of Public Citizen, and frequently writes about politics and culture for the Nation. His latest work is Bloody Crossroads 2020: Art, Entertainment, and Resistance to Trump.

http://www.akashicbooks.com/
Donated by
Akashic Books