Enjoy Signed Copies Vegucated Family Table Cookbook and Vegucated DVD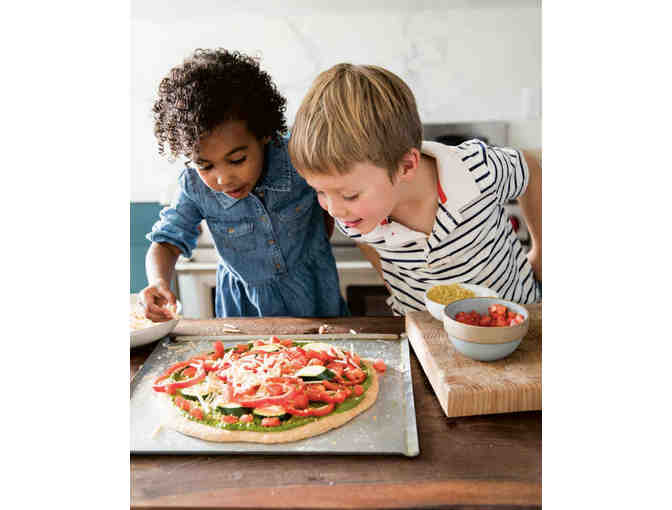 Item Number: 193
Time Left: CLOSED
Value: $50
Online Close: Nov 30, 2022 10:00 PM EST
Purchase History: 1 item sold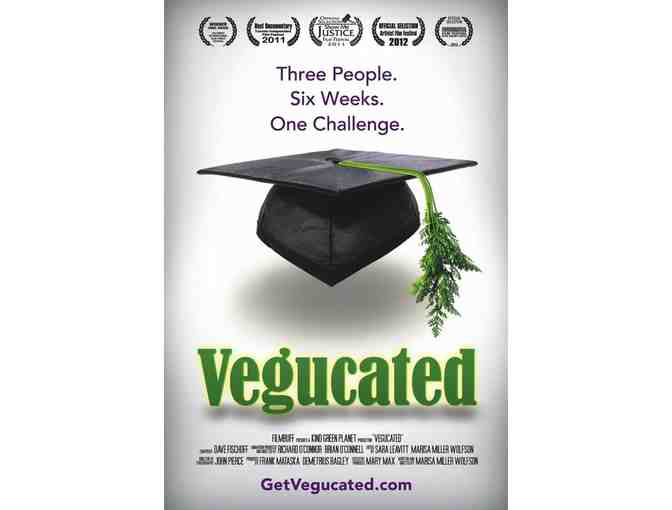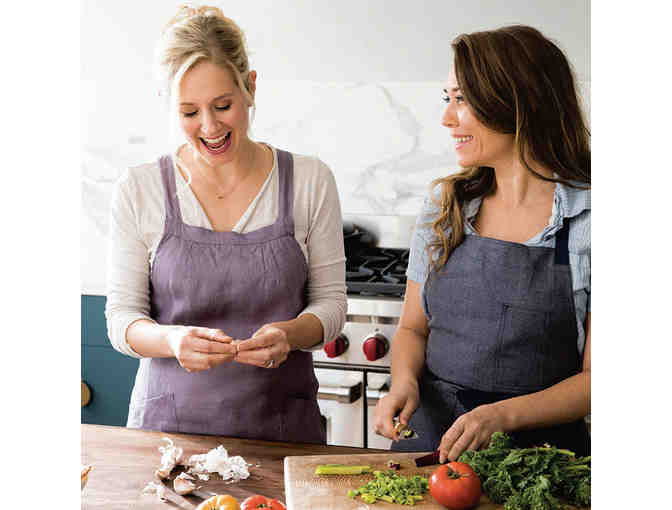 Description
A signed copy of the new book by Marisa Miller Wolfson (with Laura Delhauer),
along with a signed copy of her documentary Vegucated and a Vegucated T-shirt.

The Vegucated Family Raise happy and healthy plant-powered children with more than 125 family favorite recipes by Vegucated film creator Marisa Miller Wolfson, plant-based chef Laura Delhauer, and parents in the vegan community. For both vegans and the veg-curious, The Vegucated Family Table answers the question every caregiver ponders on a daily basis: "What should I feed my child?â" But this book goes a step further, showing parents how to navigate the early years of childhood as a vegan, giving not only recipes and nutritional advice but also tips for holidays, packed lunches, play dates, and more. Unlike other family-oriented vegan cookbooks, The Vegucated Family Table is the first to focus on raising vegans from scratch, from five months through elementary school.
A Q&A section focuses on nutrition, with advice by renowned pediatric plant-based expert Reed Mangels.
With more than 125 rigorously tested recipes for beloved favorites like Baby Mac-o-Lantern and Cheeze, Chickpea Sweet Potato Croquettes, Boosted Almond Milk, Kiddie Quesadillas, Baby's First Birthday Smash Cake, and more, this book will become the go-to reference for parents raising vegan children.
Vegucated (film) Vegucated is a feature-length documentary that follows three meat- and cheese-loving New Yorkers who agree to adopt a vegan diet for six weeks. There's Brian, the bacon-loving bachelor who eats out all the time, Ellen, the single mom who prefers comedy to cooking, and Tesla, the college student who avoids vegetables and bans beans. They have no idea that so much more than steak is at stake and that the fate of the world may fall on their plates. Lured with true tales of weight lost and health regained, they begin to uncover hidden sides of animal agriculture and soon start to wonder whether solutions offered in films like Food, Inc. go far enough. Before long, they find themselves risking everything to expose an industry they supported just weeks before. But can their conviction carry them when times get tough? What about on family vacations fraught with skeptical step-dads, carnivorous cousins, and breakfast buffets? Part sociological experiment, part science class, and part adventure story, Vegucated showcases the rapid and at times comedic evolution of three people who share one journey and ultimately discover their own paths in creating a kinder, cleaner, greener world, one bite at a time.


Editorial Reviews

"How I wish I'd had a beautiful and inspirational bible like this when I was raising my three kids, who are all in their twenties now. Makes me want to go back thirty years and do it all over again!"—Miyoko Schinner, founder and CEO, Miyoko's Creamery
"The Vegucated Family Table will help you nourish your whole family with delicious and healthful meals. Based on the latest nutrition science and brought to life with unmatched culinary skill, this book will show you how easy it is to provide the very best foods for children of every age (and their parents, too)."—Neal D. Barnard, MD, FACC, and President, Physicians Committee for Responsible Medicine
"This is the book I wish I'd had as a vegan mom thirty years ago. Every page is gorgeous. Every recipe works for real kids and real families. And there is not a question left unanswered here about bringing up healthy, happy, compassionate children."—Victoria Moran, Main Street Vegan author and podcast host
"The Vegucated Family Table comes at a perfect time, when it's never been more urgent for people to live more in line with their own values of compassion, sustainability, and caring for communities that are most vulnerable to the effects of climate change and environmental degradation. My vegan journey is instrumental in elevating my life purpose. The wisdom and guidance in this book can help us all on our journeys of fulfillment and contribution."—Senator Cory Booker
Special Instructions
About the Authors
Marisa Miller Wolfson is the force behind the documentary Vegucated, about how three meat- and cheese-loving New Yorkers went vegan. She speaks about veganism and parenting at veg conferences around the country. Laura Delhauer is a plant-based culinary artist and environmental rights advocate.
Donated by
Marisa Miller Wolfson