Bunny Bundle CHILDREN'S LEARNING TOYS, PUZZLES & GAMES by Educational Insights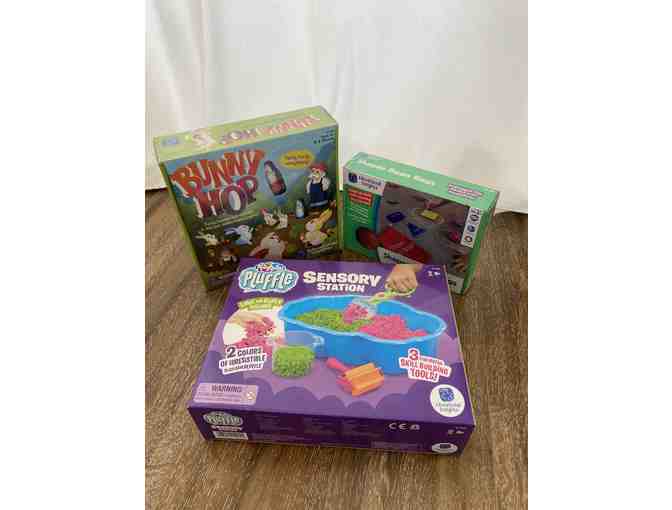 Item Number: 158
Time Left: CLOSED
Value: $75
Online Close: Mar 28, 2023 7:59 PM PDT
Bid History: 5 bids - Item Sold!
Description
Bunny Hop


SPARK MORE TOGETHERNESS! Bunny Hop is the perfect way to spend quality time together with your preschooler


PLAY, LEARN, AND GROW: Playing Bunny Hop encourages strategic thinking and memory skills, builds fine motor skills, helps preschoolers practice their colors, and encourages social emotional skills like taking turns, sharing, and working together


HOW TO PLAY: Players take turns rolling the die, pressing on any matching-colored bunny, and collecting the bunny if it hops into the air – but not all bunnies hop, so you must remember which one have been pressed and which ones have not! The first player to collect one bunny of each color wins.


PERFECT FOR FAMILY GAME NIGHT: Don't leave your preschooler out: with no-reading required, fast-play Bunny Hop is the perfect addition to your next family game night!


WHAT'S INSIDE: Includes 1 carrot patch game board, 20 bunnies in four different colors, 4 farmers, 1 die, and game instructions




Pluffle Sensory Station


SPARK MORE LEARNING: Whether you're inside the classroom or teaching at home, these tools can help spark their passion for learning!


SELF-CONTAINED SENSORY STATION: All-in-one sensory station includes soft, fluffy Playfoam Pluffle and all the tactile tools toddlers and preschoolers need to play and develop fine motor skills. Includes 1 sensory bin, 2 colors of Playfoam Pluffle, and 3 fine motor tools: handy roller, scissor scoopers, and collection cup.


BUILD FINE MOTOR SKILLS: Sifting, sorting, scooping, and extracting builds the fine motor skills kids need to button their shirts and cut with scissors


NEVER DRIES OUT! Playfoam Pluffle's non-toxic formula never dries out so the learning & fun never end. Playfoam Pluffle is non-toxic, gluten free, and nut free. Sensory fun for boys and girls ages 3+


SPARK MORE PLAY: Squeeze even more fun out of Playfoam with FREE learning activities developed by teachers at Educational Insights.





Shapes Beanbags


SPARK MORE CONFIDENCE! Preschoolers play their way to shape identification, building self-confidence and key early learning skills


TOTALLY TACTILE LEARNING ACTIVITY! Make skill building way more fun with this hands-on, toss and catch, early learning activity


WHAT'S INSIDE: 8 sturdy beanbags in 8 different shapes and colors, each printed with its shape name on the front and color name on the back; drawstring carry bag; and parent/teacher guide packed with learning activities; Shapes include: circle, pentagon, rectangle, oval, star, hexagon, triangle, and square


DESIGNED FOR LITTLE LEARNERS: Washable beanbags are lightweight and kid-sized, perfect for preschool play


BUILD MOTOR SKILLS: Picking, tossing, catching, and stacking the bean bags builds gross and fine motor skills, hand-eye coordination, and more