Museum Quality ARTWORK "Venice Carnival" Painting 45" x 67" by Peter O'Neil $3,500 Value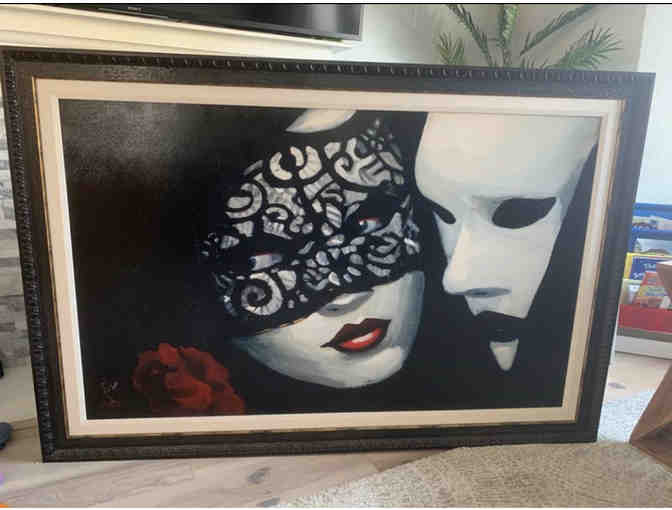 Item Number: 290
Time Left: CLOSED
Online Close: Mar 29, 2023 8:31 PM PDT
Bid History: 0 bids
Description
Inspired by the Venice Carnival, this magnificent piece by artist Peter O'Neil is a replica in excellent condition.
This is an epic showpice that measures in Size: 45" x 67"
This generous donation comes to us with an approx. $3,500 original valuation, but a starting bid at a fraction of its value.
As many art collectors and fans know, high end artwork can be a great investment and art has been known to appreciate in value over years. This piece could be a financial asset to resell in the future or simply enjoy as a centerpiece to display in your home.
You can learn more about Peter O'Neil at his official website: https://oneillartgallery.com/
About the artist, Peter O'Neil:
Peter's childhood dreams had been to become an artist; but he received little in the way of positive re-enforcement. "I liked to draw when I was a kid, but art classes weren't even offered and when I'd sketch in my notebook, they'd tell me, 'stop drawing, and pay attention!'"
Peter worked as a street artist for about a year and then moved into a small gallery on Treasury Street where he began exploring other mediums. He, like the Old Masters, finally settled on oils and continues to use them today. Mr. O'Neill is entirely self-taught, a fact of which he is quite proud.
A number of Limited Edition prints have also been donated to raise an additional $100,000. CBS has referenced Mr. O'Neill as one of the fastest rising talents in America and joins FOX, NBC, newspapers, and magazines in touting his success across the nation. Several national galleries have purchased directly from the O'Neill Gallery to share his talents with their clientele. In March of 2003, Mr. O'Neill was commissioned by Independence Bank in Owensboro, KY to create a series of paintings based on the Revolutionary War titled "From When We Came." The works depict the struggles of our forefathers. Several private collectors have also commissioned special pieces from Mr. O'Neill and are proud to own his work as part of their collection.
2006 marked the grand opening of Peter's 2nd gallery, this one in Charleston, SC. He spent the next 10 years in the low country, gaining even further exposure. In 2009, Peter broke into the international art market that is New Orleans' famed Royal Street in the French Quarter. By 2013, Peter owned 2 galleries on Royal Street. 2017 brought a new desire to pursue another popular tourist market. World famous Duval Street, in Key West, FL was home to a 12-month long pop-up gallery! In 20 years, Peter transitioned from local street artist to one of the most sought-after artists in today's art market! Exposés like that in the American Art Collector magazine have been welcome additions to an already impressive career that keeps growing!